Nov
12
Sat
Cold Process Herbal Soapmaking Workshop
Nov 12 @ 1:00 pm – 4:00 pm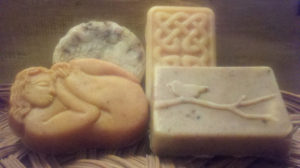 Cold Process Herbal Soapmaking Handmade soap is a traditional craft that dates back to ancient times and across cultures. Learn the cold process method using pure plant based oils, beneficial herbs and clays and pure essential oils. Customize your soap with ingredients that are beneficial for particular skin types. We will explore a variety of plants and minerals that can be used for their therapeutic properties as well as fragrance, color and exfoliation.
Each participant will craft and take home two bars of soap, along with the information and resources to make your own soap at home. Liz Scholl is a certified Master Herbalist and owner of Blue Lotus Botanicals Herbal Apothecary, a line of beneficial, herbal products for the body made from locally sourced and organically grown ingredients. She has taught at the New York Botanical Garden, Frelinghuysen Arboretum and many adult schools in the NYC area.
For information, please contact:
liz@bluelotusbotanicals.com
Jan
15
Sun
Colloquy: Home: A Personal Space; with Sarah Zahnstecher and Karen Guccione
Jan 15 @ 11:00 am – 12:30 pm
May
27
Sun
Creativity
May 27 @ 11:00 am – 12:30 pm

Creativity: Sarah Zahnstecher, an artist and experienced art therapist, will lead a participative program exploring creativity. (Colloquy provides opportunities for each of us to reflect on our own lives in relationship to the topic and listen and learn from one another, within the format of a sharing circle.)
Program followed by snacks and coffee/tea — please feel free to bring something to share!
May theme: creativity.  What does it mean to be a person of creativity?  What does it mean to be a community of creativity?