When:
November 17, 2019 @ 11:00 am – 12:30 pm
2019-11-17T11:00:00-05:00
2019-11-17T12:30:00-05:00
Where:
Brooklyn Society for Ethical Culture
53 Prospect Park W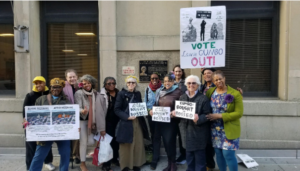 With guest speakers:
Julia Bryant, member of the legal team for MTOPP and FLAC; also committee member for Parks and Recreations for Committee Board 9
LaShaun Ellis, member of the legal team for MTOPP and FLAC
Janine Nichols, member of the legal team/occasional petitioner; also the proud Secretary of the Sullivan-Ludlam-Stoddard Neighborhood Assn.
Movement to Protect the People and Flower Lovers against Corruption are two grassroots organizations that commenced a lawsuit against The City of New York, Councilwoman Laurie Cumbo and Cornell Realty Management. The lawsuits challenge the fact that 18 lots of land near the Brooklyn Botanic Garden were rezoned without an Environmental Impact Statement. The lawsuit is ongoing.