When:
March 19, 2017 @ 11:00 am – 12:30 pm
2017-03-19T11:00:00-04:00
2017-03-19T12:30:00-04:00
Where:
Brooklyn Society for Ethical Culture
53 Prospect Park West
Brooklyn N Y 11215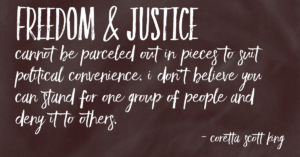 Women experience racism somewhat differently than men do, and white women experience sexism differently from women of color. Movements for women's rights were historically mostly dominated by white women, often focused on issues relevant primarily to white women, and were often expliclty or implicitly racist. Movements for racial justice were historically mostly dominated by men and often focused on "equal manhood," and could be explicitly or implictly sexist.  Each movement sometimes actively worked against the other, and often the two movements saw each other as a common cause.  It's a complicated history, including cooperation and betrayals. Clergy Leader Jone Johnson Lewis will call out some lessons for today in this tangled mess in honor of Women's History Month.