Hi parents and friends,
As we approach our holiday weekend, a reminder that there are
no
Ethics for Children classes on 10/9.
UPCOMING: 10-16-16

We look forward to seeing you all at our next session on
October 16th
, when our Living and Evolving Ethics classes will head to the park with guest herbalist and plant expert Teana David!
A local TV producer from BRIC Media Arts will also be joining us to film our class for an upcoming segment about Ethics for Children. If you do not want your child to be filmed, please email Lea to let us know.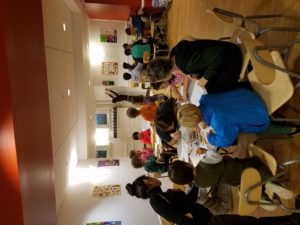 10-2-16 CLASS SUMMARY
This past Sunday, all of the children were together for a class led by Taty and Lea! We explored the universality of human emotions using art as the source for the exploration. We looked at images of paintings from around the world and examined what kind of feelings they depicted. The kids followed by creating their own artwork to depict a feeling. We also divided the groups for some more in-depth and age appropriate discussions on our personal feelings. Each group discussed the same questions (one example: What is something everyone wants in their life?). Then we joined together again to compare answers. It was interesting to see what answers the two groups had in common and how they differed according to age. We ended the class by watching the video of the song "Happy" being danced by people from all around the world ( https://www.youtube.com/watch?v=2MDReKsP3sQ ), and had a dance party!
REGISTRATION: Registration is now available through our website.  In the interest of our environment, registration will be exclusively done online. Here is the link: https://bsec.org/sign-up-for-ethics-for-children-classes/ Please complete your annual registration by the end of October.
Best,
Lea