Our Programs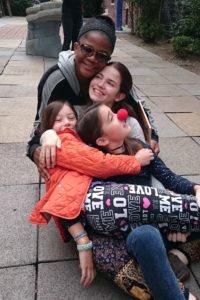 Our Ethics for Children program provides a fun, focused learning environment for kids to explore topics that foster empathy, respect and a deeper understanding of self and others. These include: our relationship to the natural world, the diversity of world religions and philosophies, social justice and action, and peaceful problem-solving.
The goal of Ethics for Children is to provide children with skills and knowledge to help them make ethical choices and learn to respect the inherent worth of every human being. We do not impose a fixed set of values or beliefs. Rather, we encourage children to respect and learn about themselves and their environment and to examine how their own ideas and actions impact the greater world.
The program also includes yoga and mindfulness, permaculture and environmental practices, arts, service and volunteering and community building activities.
We focus on 5 major principles:
Care for the Self
Care for the Family
Care for the Community
Care for the Earth
Care for the World
Ethics for Children can also be a full family activity, with classes for all ages and free adult programs at the same time for those who want to attend.
The video below is from one of our classes during our end of year ceremony:

Please note, we have an open door policy for all our classes, so parents are always welcome to visit any class for any age group and participate or volunteer.
All are classes are Sundays from 11am until 12:30 pm.
Exploring Ethics (ages 3-6)
Teacher Kimberly Houston
This program is designed to provide a warm and caring environment for young children: a place they want to be. The curriculum for this group is play-based and encourages cooperation and respect for themselves and their classmates. Stories, games, art and free-play employ the senses, build cooperation and touch on themes such as nature, community, generosity and kindness.
Growing Ethics (ages 7-9)
Teacher Angel Thompson
Our children continue to build on these foundations. This group will expand their sense of social responsibility and explore global ethical dilemmas. They will also explore the history of world religions as well as the Ethical Culture movement. The main goal for this age group is to examine their own beliefs in preparation for their Coming of Age year.
Living Ethics (ages 10-12)
Teacher Sarah Klena
Our Evolving Ethics class provides a supportive space where teens develop good decision-making skills, caring relationships, and social responsibility. At our weekly meetings young teens experience belonging and community in a welcoming, action-oriented, and judgment-free environment. Through service-learning projects, visits from local artists and non-profit organizations, our group will explore how to be effective initiators and organizers of social change.  Students will have opportunities to share their work and their evolving understanding about what one needs to do to lead a meaningful life. Graduates can join the YES Program (Youth of Ethical) that is part of a national group of kids involved in Ethical Culture.
Coming of Age (ages 13-16)
Teacher Tara Page
Our Coming of Age (CoA) program is designed to gently carry teens from childhood into adulthood while continuing their
development as ethical people, explorations into social justice, environmental issues, community needs and the well being of our planet and humanity as a whole.  The program is a safe space for teens that encourages self-discovery, responsibility, decision making skills, and facilitates parent-teen interactions and relationships while valuing individuality and personal choices. We use teen driven projects, self-exploration, multi-generational dialogue, yoga, mindfulness, permaculture and service based learning; to help young people learn how to be effective initiators and organizer of social change. They are also introduced to a variety of cultural experiences and different beliefs and invited to contemplate how those belief systems help people grapple with the same issues and questions that all humans encounter. Along with an adviser for the class each individual is paired a mentor to provide support throughout the program. The two-year program concludes with a personalized ceremony in which the students share their work and their evolving understandings about topics relating to living a meaningful life. Graduates are offered full membership at no cost in the Society and invited to stay connected with the Ethical Culture Movement by joining the national Youth of Ethical Societies group. Many of our graduates stay to work in the Ethics for Children program as assistants after graduation.
CLICK HERE TO SIGN UP FOR OUR ETHICS FOR CHILDREN PROGRAMS << 

>> CLICK HERE TO SIGN UP FOR A TRIAL CLASS << 
Have any questions for us? Please send us a message and we will get back to you right away.: