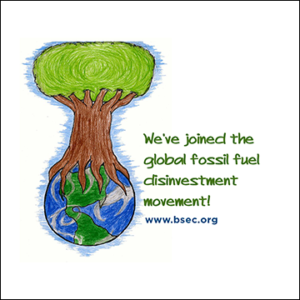 The Brooklyn Society for Ethical Culture substantially divested its investment fund from fossil fuels in celebration of Earth Day 2015. We did so through the sale of our Energy Sector Mutual Fund, which constituted approximately 7% of our investment portfolio. 
According to our treasurer, Tom Castelnuovo, "We estimate that the sale of our energy fund has reduced our energy stock holdings from approximately 10% of our portfolio  to approximately 3%, a 70% reduction in our energy stock holdings achieved by this one simple act. (Since BSEC held no individual stocks listed on the Carbon Tracker 200, a list of fossil fuel stocks, our only remaining fossil-fuel holdings are held in broad market funds such as an S&P500 Index Fund as well as international mutual funds.)"
BSEC is proud to join hundreds of cities, universities and religious organizations in the worldwide divestment movement. We take our inspiration from our parent organization, the American Ethical Union, whose divestment resolution stated in part:
"The American Ethical Union shall divest itself of any investments in businesses that have a primary purpose of the extraction or distribution of fossil-based sources of energy… We urge [our member Ethical] Societies… and their… individual members to do the same."
BSEC understands the disastrous consequences to our climate of our continued burning of fossil fuels.  Our resolution on the subject states in part:
"Because scientists and the United Nations overwhelmingly agree that any increase of global warming more than 2°C (3.6°F) would be unsafe for the future of a livable world
Because we are concerned about the threat to life on our planet from catastrophic climate change resulting from the production and consumption of fossil fuels
Because environmental groups like 350.org (www.350.org) and Green Faith (www.greenfaith.org) are promoting fossil fuel divestment as a way to bring to broader consciousness the crisis created by an economy shaped by fossil fuels, pressure the companies to invest in alternative energy and stimulate governmental and social commitment to a clean energy world;
Because we are heeding the call of religious groups nationally – including the American Ethical Union, United Church of Christ and Unitarian Universalists – and locally, including many synagogues and Quaker meetings, which have begun the process of divesting their portfolios of fossil fuel stocks and investing in alternative energy…"
We have decided to divest our portfolio from fossil-fuel stocks in several stages. We take our guidance from 350.org and GreenFaith.org, who envision a 5-year phased approach to divestment.
Said our treasurer, "For FY15, we decided simply to get the 'biggest bang for the buck' in taking our first step toward divestment through the sale of our sector SPDR Energy Fund.
On a go-forward basis, we will be looking at fossil-fuel investment alternatives proposed by our congregation including Socially Responsible Investment funds that are screened to exclude fossil fuel investments, greater use of non-energy sector funds, investment in social investments such as worker cooperatives, credit unions and supportive housing, and short sales of fossil fuel stocks."
"BSEC is committed to fighting climate change through our congregational resources, and we are proud to have taken such a major step to achieving our goal of fossil fuel divestment," said Jone Johnson Lewis, our interim clergy leader.