When:
June 17, 2018 @ 11:00 am – 12:30 pm
2018-06-17T11:00:00-04:00
2018-06-17T12:30:00-04:00
Where:
Brooklyn Society for Ethical Culture
53 Prospect Park W
Juneteenth: a celebration of liberation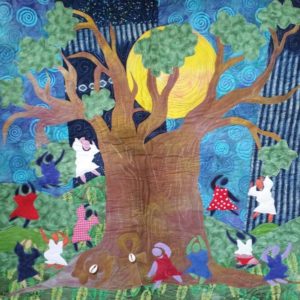 Featured Speaker
Dr. Myrah Brown Green, Arts Consultant, Independent Curator, Art Historian, Author, Professional Artist.  Her Doctor of Philosophy (Ph.D.), received was a degree in Interdisciplinary Studies with a focus in Art History. Her research area was the "Presence of African Symbols in Western/Modern Art."
Come and meet the artist and experience her work, for your viewing pleasures. Available for sale.
Music
"DuPrée's soaring contralto voice, powerful vibrato and melodious yodeling grip the listener with hope for humanity; her songs evoke the haunting quality of a longing for truth and aninquiry into the different shades of justice."
Barry Kornhauser was born in the Midwest of the Bronx and presently lives in Brooklyn. He is a composer, arranger, teacher and multi-instrumentalist (cello, guitar, bass guitar and mandola) in a wide variety of musical environments.  He has collaborated with DuPree as an accompanist since the early 90's.
Refreshments Served
We start the formal program at 11:00 and usually end about 12:30.  After that, we have a time of informal conversation with some great food this week for those who stay.  Please feel free to bring some snacks to share — especially, this week, if it's soul food!
June Theme: Possibility
What does it mean to be a person of possibility?
What does it mean to be a community of possibility?