Our Ethics for Children student Westley Miller shared some exciting news this summer: His family is fostering a puppy! It has been really special hearing about his experience, so we asked him to share about it for our blog.
————
We are currently fostering a puppy. Fostering is kind of like adopting, except it is for a little bit, until someone
else wants it. The puppy's name is Mae.
She was in the wild for a month while her siblings were in a shelter. There is a rescue in Dutchess County that
takes dogs from high-kill shelters in the south; it rescued Mae and her siblings, and we fostered Mae. All of
them had severe non-contagious mange.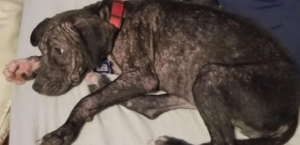 Two days after being rescued from the shelter, one of her siblings died of dehydration and the other was
discovered to be a boy (the bad shelter thought they were all girls): Mae was doing better in the wild than her
siblings in the shelter. Her other sibling took longer to recover in his foster home than Mae did, and he is doing
great now and has been adopted. How did the "shelter" mistake him for a girl?
Mae has almost completely recovered from her mange (so has her brother), and I like having her in the house.
She is very annoying sometimes, but she is a very sweet puppy. She is nice to everything, she wants to play
with the cats and the goats, but the cats and goats don't like her. Whenever anyone comes home, she is very
happy to see them, she wiggles around and jumps on them. We are trying to teach her not to jump on us.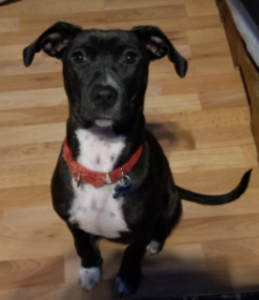 Mae is doing very well with training, she does sometimes have accidents in the house when she gets excited,
but other than that she is doing well. Dad and I take her for walks.